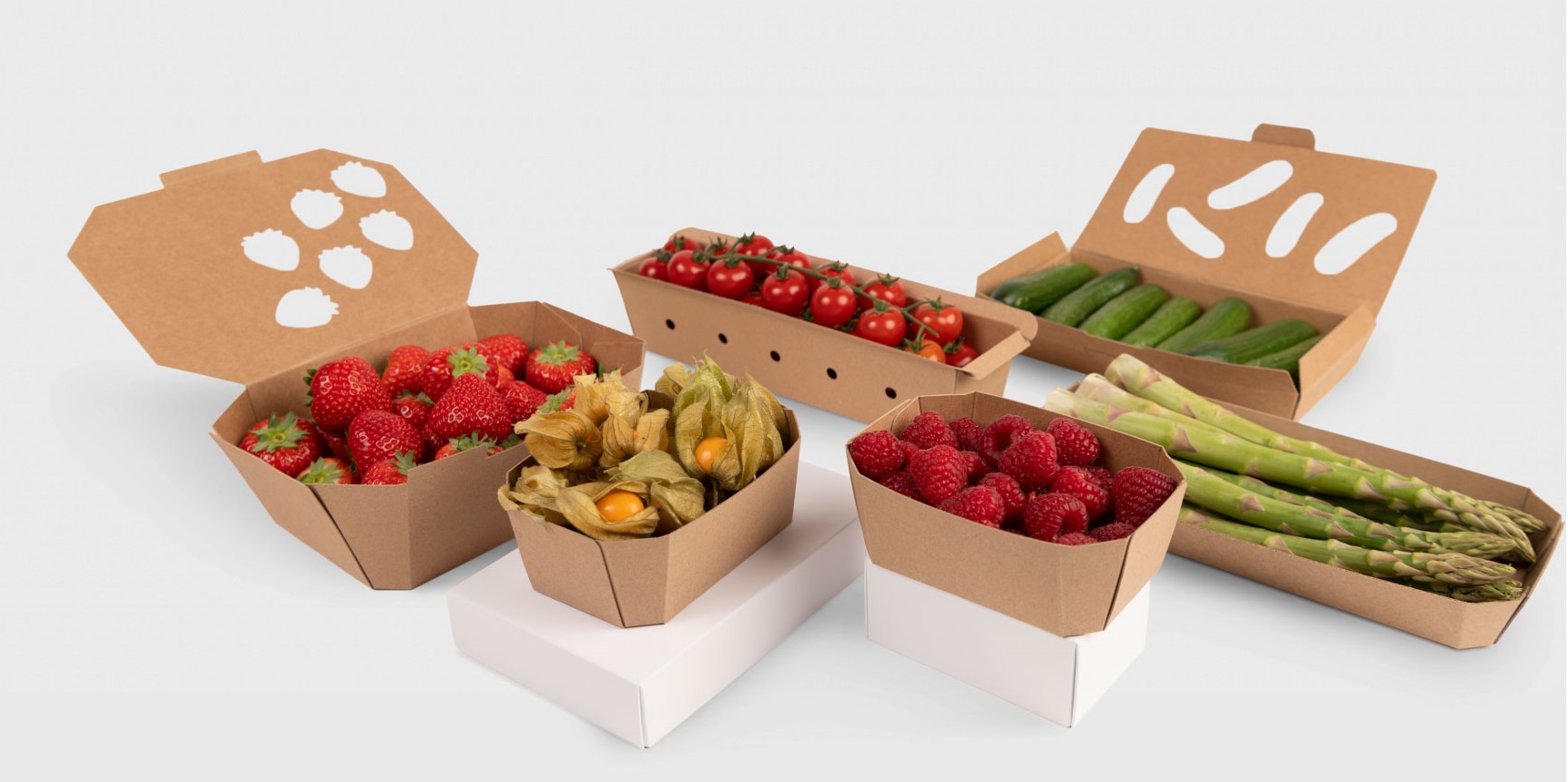 The magic trick with folding carton trays
The magic trick with folding carton trays
Eco-friendly, no compromises made. Efficient and effective from design right up to your production line, last mile delivery, straight into the hands of your customer: folding carton trays tick all your boxes.
Perfectly stackable, sturdy and food safe, its eye-catching high quality printing possibilities make your products stand out on the shelf. Your customers will love it, how eco-friendly and practical it is. And so will your stakeholders.
Disposable trays recycled
Yes, at Van Genechten Packaging, we're in it for the planet. Folding carton is new sustainable standard; its source is 100% renewable, and it's 100% recyclable. Consumer minds have made the switch, and EU regulations on single use plastics are becoming stricter.
So you can safely replace your disposable plastic trays and blister packaging with folding carton ones and have them recycled, and not thrown away and burnt. Huge contribution.
Think supply chain and filling lines
But the magic is that while you're making your packaging truly sustainable with folding carton, it can fit your production line perfectly and will keep your logistics highly efficient. If you focus on the production and supply chain side, right at the point of design and development, that is. 
So, make sure your folding carton tray packaging is as lean as possible. It has to support your current in-house production processes. Your packaging team has to include players with machinery, filing lines and logistics expertise.
Plenty of trays to choose from
1. Eco-friendly trays in microflute
Reduce plastic by 100%, replacing the full plastic tray
Ideal for fruit & vegetables, keeping them well-protected
Effective consumer communication, both on the tray as well as on the banderole / label

2. Compact carton and microflute trays
Reduce plastic with up to 80%
Very common for fruit & vegetables
Replace the full plastic tray
Often with a plastic flow wrap in retail, but not necessary
Powerful printing possibilities

3. Compact carton trays with top seal
Reduce plastic with up to 95%
Ideal for fruit & vegetables, herbs, mushrooms and many more
Top seal film, can be easily removed
Folded edge for extra protection
Easy opening, dosing and reclosing
Individual packaging climate perfectly adaptable
4. PaperBoard trays (MAP)
 
Reduce plastic with up to 75%
Ideal for fish, meat, poultry, cheese, snacks, salads, bread, noodles
Sustainable modified atmosphere packaging (MAP)
Easy opening and material separation
High-quality folding carton printing & finishing technologies
Various packaging shapes possible
Rely on our international machine expertise
Enhanced brand experience with surprising functionalities
Enhance your brand experience with added convenience for your customers. Typical for food on-the-go trays: you've just heated your meal in the microwave - now what? How about a handy add-on in your packaging you can use to place your tray on? Better even: it was a part of your packaging all along, and part of your whole supply chain right from the start. What makes a real difference: making the most out of your packaging, by thinking beyond mere container functions.
Make folding carton magic happen for your trays
Optimal supply chain efficiency

perfectly stackable and sturdy
matches current production processes
fits your filling lines

Enhanced brand experience

high quality printing
eco-friendly, recyclable
extra functionalities possible

Peace of mind

food, non-food, blister alternative
perfectly food safe
recyclability certification available
Find a VGP team near you
We'd love to hear from you!