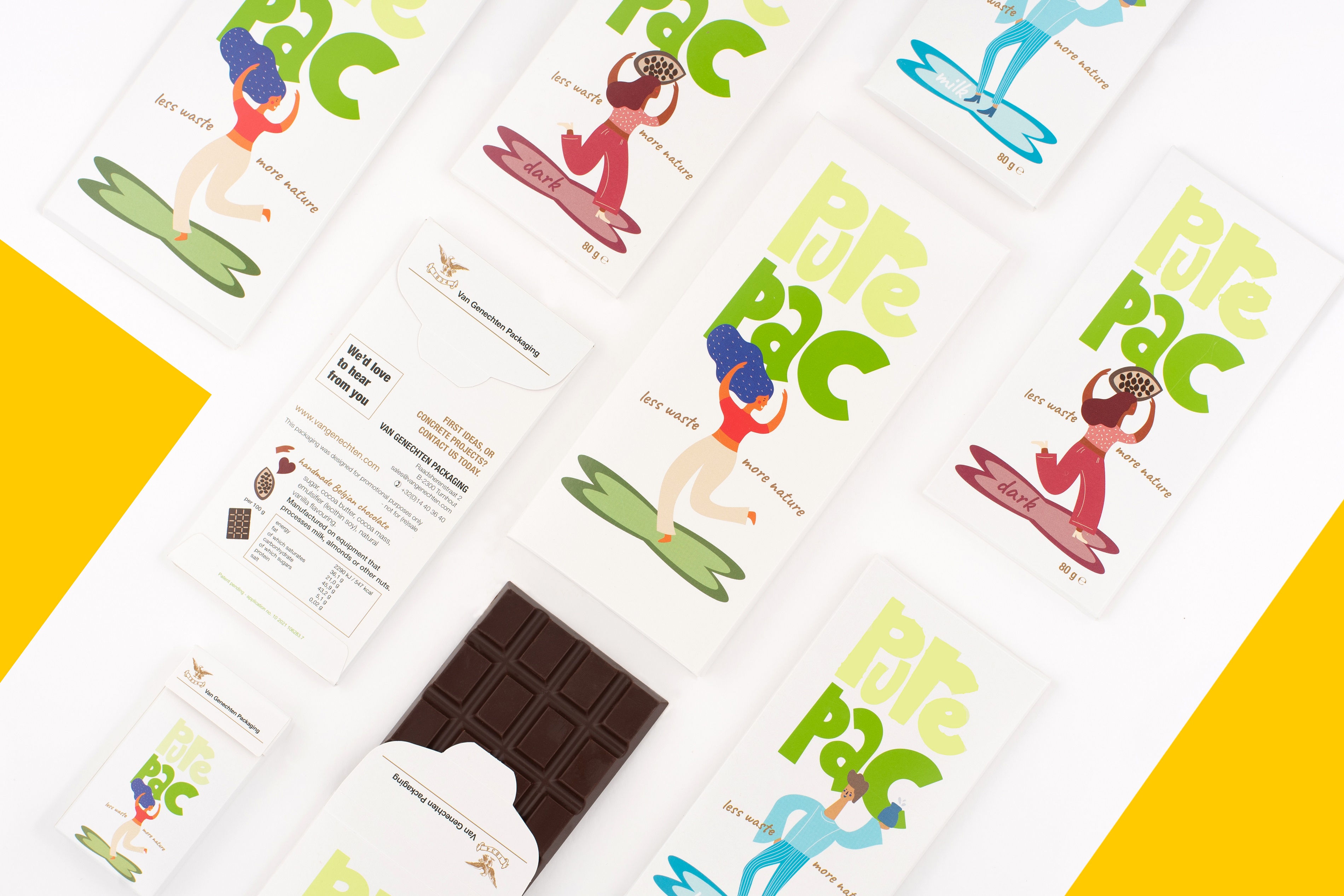 Perfecting chocolate packaging
Pure Packaging by VGP saves our planet tons of aluminium
Pure Packaging is 100% recyclable chocolate packaging that eliminates the need for extra inner wrapping material. 100 million Pure Packaging save your brand and our planet 150,000 kilos of aluminium: the equivalent of 25 elephants.
Better even: Pure Packaging offers new branding possibilities, like inside printing without high additional costs. It does not compromise line efficiency, or limits finishing options or food safety. And helps you save up to 5 euros per 1,000 packs. 
Your brand can now be truly sustainable right up to the best moment for your fans: opening, and enjoying the lovely contents. Consumers want their favourite confectionery brands to make sustainability happen, and folding carton is the perfect answer. 
The chocolate may be perfect, but the packaging?
We see so many chocolate brands becoming more eco-conscious, carefully selecting ingredients and cacao beans grown with respect for people and planet. Think Fairtrade, forest protection, organic labels. The packaging so exquisite, so in tune with the brand promise. 
That brand experience is created with gold effects, with beautiful names and printing - and then there is that wrapping inside: unpractical, made from single-use material. Unsustainable. 
Your magic goes out the window. 
So, we wondered, how we can keep that magic? Is there a way to replace the extra foil, finally eliminate it altogether? And then take it further? 
Now there is. We invented it: folding carton packaging with a unique inside anti-grease barrier that keeps your chocolate safe all on itself. Without extra wrapping. Perfectly recyclable. 
We call it Pure Packaging for a reason. 
The purest folding carton packaging for chocolate and confectionery
Pure Packaging is made from Standard FBB GC1/GC2. It shows yet again the difference folding carton makes on all levels: 
Save our planet, save euros
Certified recyclable folding carton
made from renewable sources, perfectly reusable
No extra plastic, aluminium or alu/paper inner wrapping needed
100 million PurePacs equal 150,000 kilos of aluminium saved
Optimal material efficiency
save up to 5 euros per 1,000 packs
Short ROI period for your new packing line
up to 200 cycles per minute
Rely on the power of folding carton
Unique anti-grease barrier keeps your chocolate safe
direct food contact approval, tested and certified by independent labs
Powerful design, perfect gluing
aromas stay inside, pollution or pests will not get in 
99,x% tight corner technology
intact with up to 40 kg pressure on whole pack
Become the brand of choice on the shelf
Perfect brand experience
PurePac tactile experience reinforces visual and emotional expectations
Wide range of finishing techniques
low-migration inks and decorative varnishes
No limits to embellishments
hot and cold foil, all kinds of embossing
Easy opening and reclosing
convenience made sustainable
Food safe colours and varnish printing on the inside too
enhance your brand experience after opening
Game changer? This is magic in the making
As we continue to test and roll out Pure Packaging, we are already exploring new applications for other kinds of confectionery like chocolate gift packs, chocolate balls both wrapped and unwrapped, chewing gum, sweets and candy, liquorice and bakery products. 
Make magic happen for your chocolate and confectionery brand
We'd love to hear from you