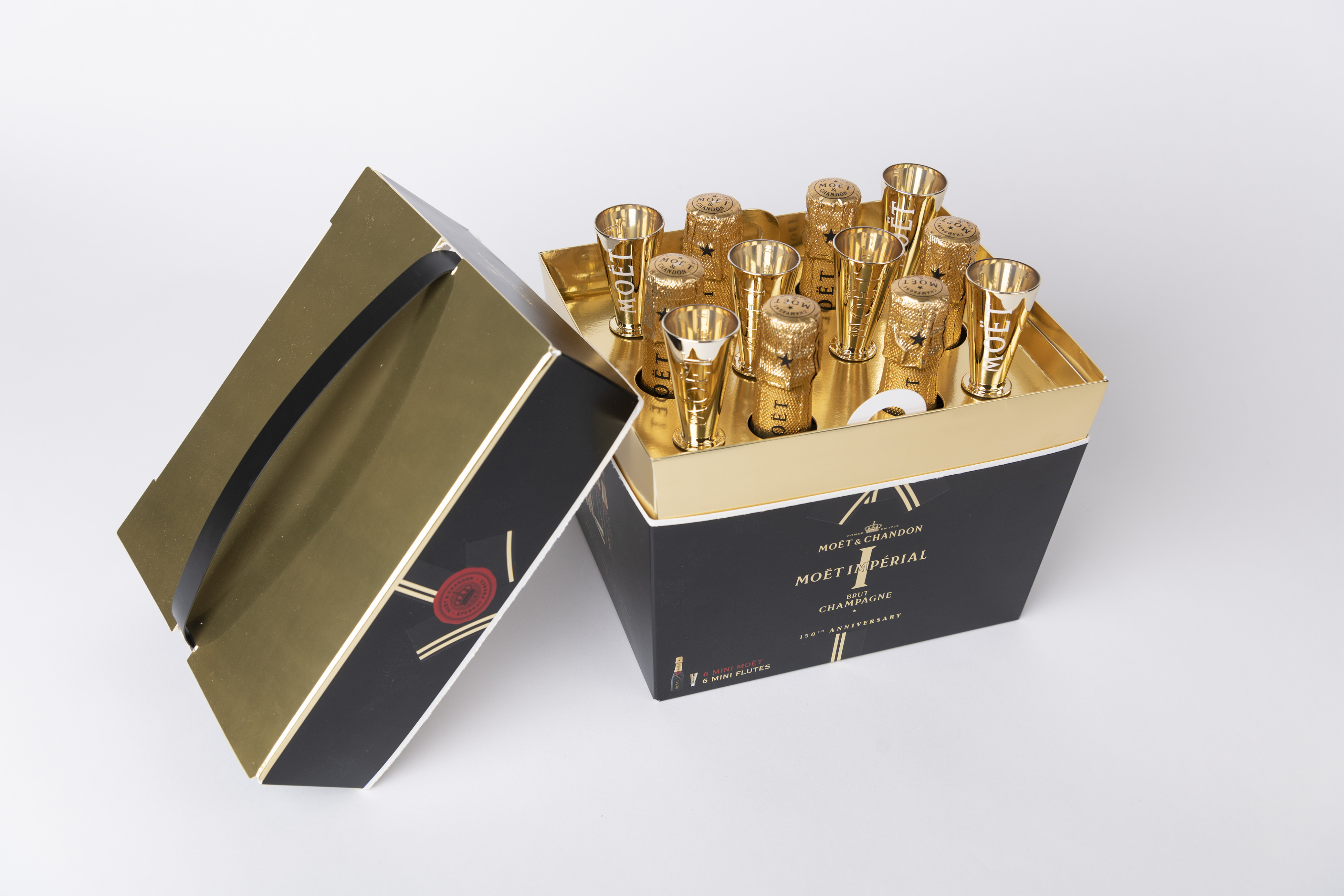 Prix Formes de Luxe 2019 goes to VGP
3rd award for folding carton packaging specialist this year
Monaco, 2 October 2019 | VGP takes home the Prix Formes de Luxe - categorie folding carton - with its MOËT PACK 6 MINI SHARE, a stunning folding carton pack designed & produced for the famous champagne brand's 150th anniversary.
The Prix Formes de Luxe awards packaging for luxury brands every year during the Luxe Pack exhibition. Winning an award this precious after being judged by experts, is an industry recognition of how you set standards and defy them
Not just luxury
From the packaging specialist's point of view, this makes designing for premium experiences quite the feat. It requires intense collaboration with your customer team, in-depth knowledge of printing and embellishment techniques, and the right combination of material and folding know-how with out-of-the-box thinking - all within brand guidelines.
It involves a lot more than mere designing for luxury appearance. Moreover, sustainability is high on the agenda, which adds to the complexity of your project. With consumer eco-consciousness reaching a tipping point, it's no surprise VGP attended a special edition of Luxe Pack dedicated to eco-friendly premium packaging earlier in June this year.
Folding carton is well-suited to meet those shifting customer demands, since it is perfectly recyclable and re-usable as opposed to single-use plastics. With 10 folding carton factories in 7 countries VGP is building a strong reputation for being able to strike this delicate balance for food, non-food and premium brands.
Adding functionality to form
This year's winning Moët & Chandon box is a deep black anniversary edition of a diamond-shaped pack with a gold finish. It contains six miniature bottles of Moët Imperial and six golden flutes. Open the mini pack just like that and remove the minis. Then fill the bucket with ice and enjoy your precious liquid gold at perfect temperature.
Indeed, this folding carton box serves as ice bucket as well: a feature that both wows customers and stretches the boundaries of folding carton packaging.
3rd win in a matter of weeks
This is VGP's third win in just a matter of weeks. After winning two European Carton Excellence Awards in September - the Save the Planet Award for BalloonGrip™ and the Platinum Award for Champagne Devaux Cuvée "D" - they made the Prix Formes de Luxe shortlist this year with another box for Moët & Chandon, the Moët Cracker Rosé.
"This is simply amazing. Another industry nomination and award! It shows our recent investments - a third of a total € 20 M - to boost our performance in the luxury sector are well-chosen.We see premium brands are facing incredible challenges today, so everyone at Van Genechten Packaging is extremely proud to be able to contribute to Moët & Chandon's success."
Frederic de Somer, Managing Director VGPI
We'd love to hear from you.
First ideas or concrete projects?
Contact us today:
sales@vangenechten.com