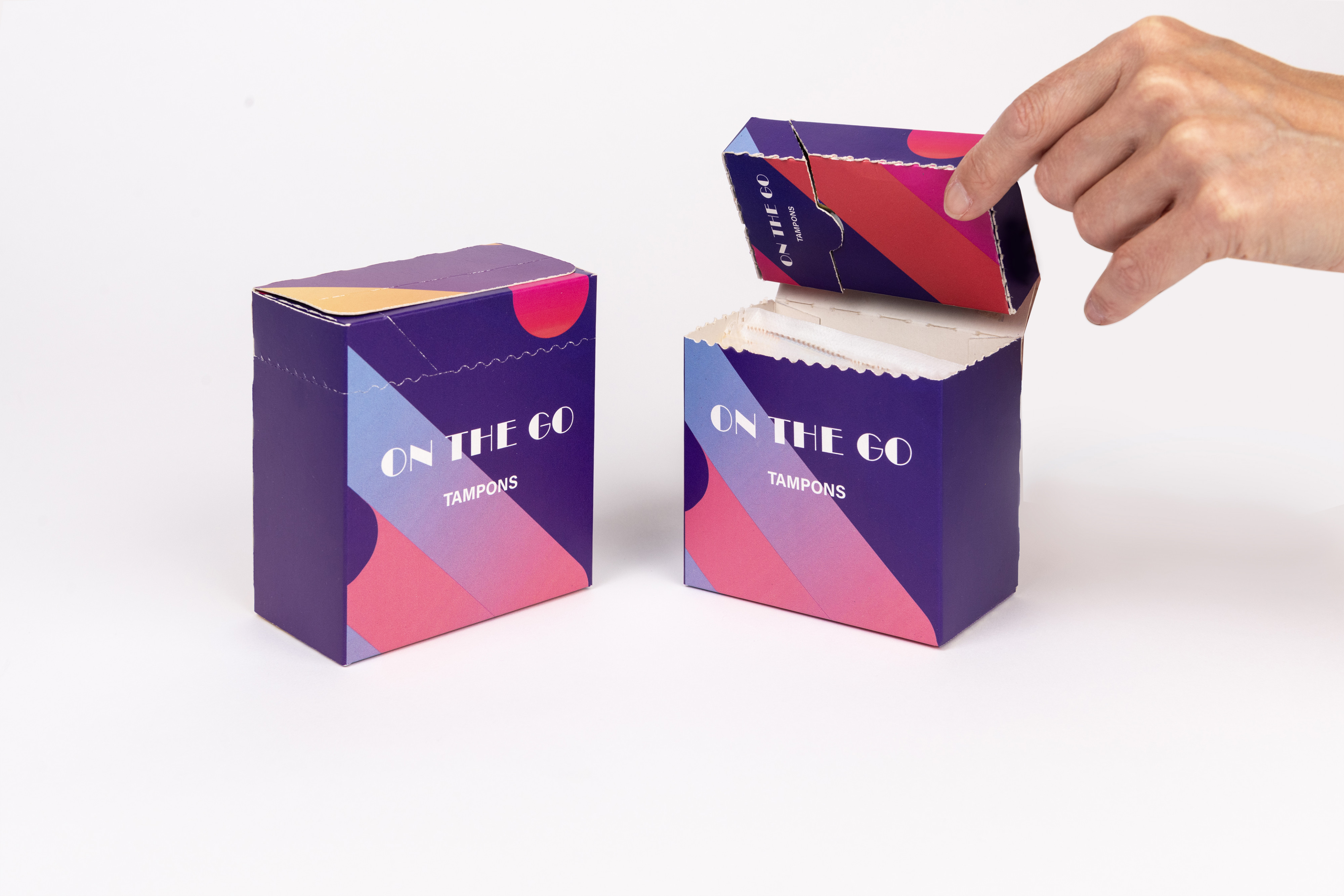 Sparking joy: Packaging for personal care products
First impressions count in the world of personal care products. Which is why your choice of packaging can be a game changer. It needs to draw attention, whether on a store shelf or a webshop. And it should make consumers fall in love at first sight, but still relay all the promises of the product inside. Packaging is the business card of the brand and therefore your opportunity to emotionally connect with consumers. Packaging design is your marketing vehicle.
Safety first
According to research by Euromonitor International, the most important consideration for consumers of personal care products is product safety. Why? High protection means high value. We deliver products in folding cartons that serve as a shell around the product, as well as other packaging required to ensure the protection of the product. Outer and inner protection in a sustainable, mono-material combination. This does more than demonstrate a dedication to the care of the product. It adds to the unboxing experience. And encourages the consumer to feel they have purchased an item that is valuable.
The versatility of cardboard materials shines through here. As a paper-based material, it not only looks, but also feels more natural than plastic. Its status as a natural product ties in perfectly with the way consumers associate personal care with nature, wellness and health. It protects and absorbs shock better than other materials like plastics, ceramics and glass.
We could even add a sense of elegant robustness to your packaging. Perfect for any kind of product, micro-fluted cardboard is a strong, reliable and particularly durable form of packaging material. Despite its strength, it uses less material than other forms of packaging. It's light. It radiates safety and quality. And furthermore, you're able to use high-quality printing techniques on it, allowing you to optimise the visual presence of your product.
User experience
While your packaging needs to be user-friendly and convenient, it's also a way to add value to the user experience. This means targeting consumers with communication or promotions tailored to their desires at the right time with the right experience. You'll connect with consumers, expand your customer base and keep your brand top of mind.
How do you do this?
We start with the opening experience. With an innovative and creative approach to your packaging, even with a bundle pack, there's a sense of joy, or indulgence. A touch of specialness.
Van Genechten Packaging is always developing original ways to package products. Which is important: consumers are always looking for new experiences. We are breaking ground every day. Ergonomic shapes, intuitive closures, and leak-proof mechanisms, all help your product to spark joy in consumers. Easy access with the product already shining through to deliver a magical experience.

If you're looking to cross-sell different products, we will develop packaging that presents both items - even when they're different shapes and sizes - for maximum impact on the shelf. Window cut-outs in the front panel allow both products to be seen, framed in your packaging. The cut-outs at the back ensure ingredients, intolerances and allergies are visible, but keep single-product barcodes hidden for easy scanning at the register. This also means that after your promotion has concluded, it's easy to remove the products from the packaging for separate sale.
At Van Genechten Packaging, we stay up to date with all European and local country regulations relating to packaging, the materials used and the presentation of legally required information. As e-commerce becomes increasingly prominent, we are investigating the potential in dry products, refills and other ways of minimising the amount of packaging required. Everything we do is based on what you or your consumer or end-consumer needs.
Environmentally friendly and sustainable
In the world of personal care, the move towards natural ingredients and natural materials in products has been underway for a long time. Unfortunately, natural packaging for these products has not always been available or has not always been embraced. This is a pity. Using natural packaging for natural products assists in promoting the benefits of the natural products. It helps emphasise their natural character.
Plus, when a consumer picks up a product with natural, plant-based packaging, they experience a different tactile sensation than with shrink wrap, plastic or any form of metal. This is important in establishing a psychological connection that changes the experience of a personal-care product.
Environmental friendliness and sustainability are more important to consumers now than ever before. Responding is crucial. Euromonitor International research established that 30% of Gen-Z consumers make purchases based on the social and political beliefs of a brand, with 24% boycotting brands that fall short of their expectations. When it comes to sustainability, actions speak louder than words.
Packaging gives you an opportunity to actually demonstrate your commitment to sustainability, rather than just talk about it. At the same time, it helps you establish a sense of trust and connection with your consumers.
An example?
Liquid soaps have been sold in thick plastic containers for decades. While we associate soaps with purity and cleanliness, we are all too aware of the links between plastics and pollution. And it's because consumers are changing their minds about what they will accept in their packaging. For this reason, we are always looking into alternatives to plastic and plastic components.
How would consumers respond if liquid soap was available in cardboard? At Van Genechten Packaging, we've already eliminated leaks and other issues, and are close to bringing a cardboard packaging solution for liquid personal care products to market. A solution that's natural, sustainable and wholesome. One that consumers would not necessarily expect to see. But one that they will happily embrace.

Of course, the plastic pouches used to package different kinds of wipes are not sustainable either. Van Genechten Packaging has developed an alternative that uses cardboard. A thin foil lining ensures the packaging is watertight, while acting as a barrier for moisture and scents as well. You'll even have a range of recyclable paper-based top seals to choose from. The packs are available in all formats, with customisable artwork to relay your marketing message. Perfect for wet wipes, baby wipes, face wipes, toilet wipes and, yes, even pet wipes.

Both these packages are designed to address consumer desires. It enables you to reduce your use of plastic by more than 95%. And it all revolves around the use of sustainable, recyclable raw materials. It invites consumers to incorporate wholesome, natural, environmentally friendly elements into their daily ritual. And, it turns out, this is exactly what they want.
Beauty = Health
A survey conducted by Euromonitor International found that in the post-pandemic world, consumers assimilate beauty with looking healthy. It's hardly a groundbreaking concept. But the survey found that Beauty = Health was the most prominent association.
In fact, beauty is expected to overlap to an ever-increasing degree with other industries, particularly consumer health. When you promote healthy, natural beauty products in natural and eco-friendly packaging, you make it clear to consumers that you understand their values & specific expectations. Your packaging responds to their Beauty = Health perspective. And you're acknowledging the importance of the health element in their daily ritual. A ritual where chemical-laden plastics barely feature at all.
This is just the tip of the iceberg. You also have the ability to obliterate other negative connotations. The daily ritual is about more than beauty. It's also about removing toxins while adding freshness and freedom. With the right packaging choices, you help to spark joy and happiness. Make your consumers feel good. Help them to be who they want to be.
Empowerment
Leaving the house without mascara? Or without triple-checking your look in the mirror? For many, it's unthinkable. A lot of consumers testify to feeling naked or irrationally uncomfortable all day if they don't complete their personal care routine in the morning. Which is understandable. Because when they do prioritise their personal care, they feel great and unstoppable.
We believe packaging has the potential to add to this feeling of empowerment. Especially for female consumers. And what better way to demonstrate this than with tampons. Marketers have connected tampons with the concepts of freedom and independence for decades. But does the packaging support this view?
We looked at ways in which to promote positivity and spark a little joy. We recognise that while large packs of tampons are great for the bathroom, they're less convenient for day-to-day use. But if a large packet included a simple, smaller cardboard box, sized to conveniently fit a handbag, it would go a long way towards delivering freedom and confidence, especially when you're on the go.

It would be simple to produce these little boxes in upbeat colours or with assured, confident designs that help to do away with taboos or the sense of shame that is still associated with periods. Instead, they would become part of a lifestyle instead of a secret that needs to be hidden. Empower consumers with a natural, lightweight, convenient and attractive solution. A simple packaging innovation that enables you to show women you want them to once more be the boss of their own bodies.
Quality
With rampant inflation driving up the prices of health and beauty products, consumers are becoming more selective. Efficacy, value and quality influence their choices. But even with purse strings being pulled tighter, consumers are still prepared to invest in personal care.
Why?
Because personal care is not a product. It's a lifestyle. It's part of a ritual. It makes us feel good about ourselves. Many of us will even wake up earlier in the morning just to dedicate time to our personal-care regimes. And enjoy taking a moment just to care for ourselves. 
How do you reward this effort?
With welcoming packaging that makes a consumer feel good about themselves? Or packaging that emanates quality? What about packaging that reminds consumers that, yes, they really do deserve to be pampered? Or should packaging be so innovative and creative that it transforms a daily task into an experience to be savoured?
Endless possibilities
But these are just a few examples of personal care products. There are countless others that could be more effectively presented to consumers. What would be the best approach for your product and target consumers?
Challenge our creativity.
It's time to communicate the essence of your brand. Highlight the functionality, quality and sustainability of your products. Optimise the effect your packaging has on that first contact. And deliver the ultimate user experience. Add to the impact of your product today.
Get in touch with Van Genechten Packaging. 
Discover the possibilities!