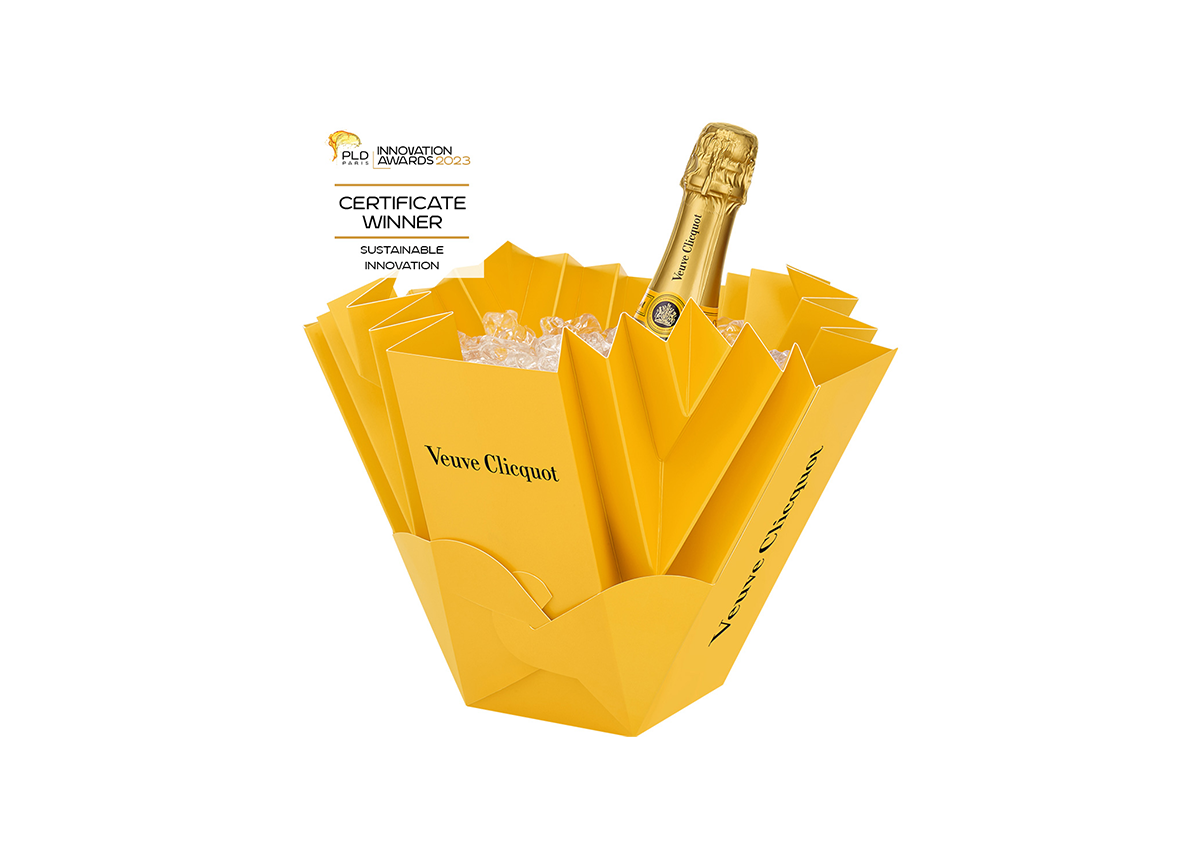 A sparkling start to 2023 for Van Genechten Packaging
Turnhout, January 27, 2023 | Paris Packaging Week is where innovative trends from all over the world of premium packaging are recognised and rewarded. We at Van Genechten Packaging were, therefore, thrilled to be presented with PLD certification for our innovative collaboration with champagne brand Veuve Clicquot.
Reusable, recyclable, remarkable
The concept behind the packaging is creative, sustainable and innovative. A gorgeous presentation box that transforms into an ice bucket! Constructed from 100% recyclable paper and cardboard sourced  from FSC certified forests, it allows consumers to enjoy their champagne ice cold wherever they are.
But that's not the end of the story: the VIA association recognized the iconic concept and selected it as one of 100 items to represent France on the world stage. In short, the kind of magic producers and consumers have come to expect from VGP.
Toasting Partnership
Jérôme Cahu, General Manager of VG Angoulême, the VGP plant privileged to work with Veuve Clicquot to produce the packaging told us:
For us at VGP, the Veuve Clicquot Ice Box really sums up how we love to work. Close collaboration with a customer on a concept that's fun, creative and realised in 100% sustainable material. We're delighted with the PLD certificate, but we're even more delighted with the product. We're certain consumers will be, too."
The customer was also thrilled with the award. Aurélie Petit, New Product Development Manager explained:
Working with VGP is a pleasure. From the first explanation of our requirements, to material selection all the way to execution. Their flexibility, customer focus and level of service are exemplary. Both product and partnership are a great reflection of our Solaire philosophy, where every new day offers us possibilities to move towards a bright new future."
Get in touch to discover how we can help your packaging dreams come true, from idea to store!
Contact us
sales@vangenechten.com
Heidi Vanspauwen
Group Marketing & Communications Manager
Raadsherenstraat 2
B-2300 Turnhout
Tel: 0032 14 40 36 40
About Van Genechten Packaging (VGP)
Where people, brands and folding carton meet, that is where the magic happens at VGP, every single time. For almost 190 years now VGP has believed in the unique impact of packaging for brands and products, for people and the planet, and made it work.
Today it remains one of the last truly independent European packaging specialists with HQ in Turnhout, Belgium, 12 folding carton sites, 1 extrusion site and 1 rigid boxes design & production center in 9 countries. Customers have come to value both this presence and independent spirit: typical is VGP's 'people first' approach, where customer-centric collaboration is key to success. It has won the company many leading industry awards.
VGP generates an annual revenue of more than 400 million euros. As a leading provider of packaging in European fast-moving consumer goods, the company continues to grow in printed folding cartons, offset laminated corrugated board, POS displays and a wide range of other packaging solutions.